... to make buffalo chicken dip on my own (enter dramatic echo man voice).  To those of you who are not kitchen-ly challenged like myself this may sound like an easy task, but this is big. Baking... I am your girl- Cooking food that does not contain icing or whipped topping is a little tough for Miss Maya.  First of all the recipe called for chicken out of a can.  EWE.  So I had to upgrade to a rotisserie chicken.  Anything has to taste better than chicken out of a can.  Really the recipe is not that tough but I always seem to mess something up.  Being that I live in Pennsylvania and the Steelers are in the Super Bowl I should be routing for them, but I secretly would love the under dogs to win(Go Cardinals!).  AND thank goodness boyfriends Eagles didn't get in the big bowl b/c we all know how intense today would be rather than kicked back and relaxed. WHEW!

Last weekend was absolutely wonderful. I was at the Scranton Cultural Center (which is beautiful)...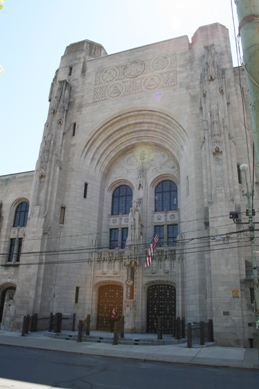 to see a traveling broadway group perform this...
And it was fabulous. Toto was too cute. Dorothy was amazing. And the Lion stole the show he was so funny.  The witch was super scary and yes there was a flying monkey. I'm sure I don't have to tell you how it ended. 
And no need to worry I wore red shoes, I certainly had to dress the part. 
Happy Super Bowl Sunday!